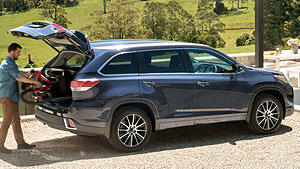 Equipped with a raft of technologies and features, Toyota Kluger is the ultimate family SUV, perfect for adventures off the beaten track and in the city.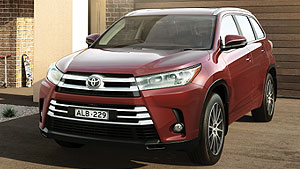 Kluger's sleek shape gives the car a strong, dynamic stance and a large trapezoid grille and slim-line headlights emphasise Kluger's powerful SUV face.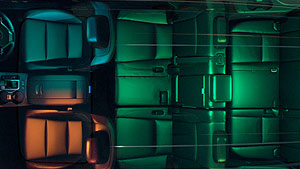 Car seating in Toyota Kluger is designed to accommodate 7 in comfort, but also to be highly flexible with foldable seats offering a multitude of seating configurations.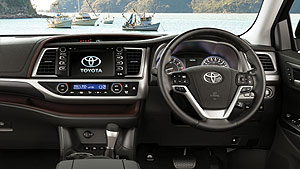 Kluger's steering wheel controls let you change radio stations, adjust the sound system volume, select tracks and switch between audio modes and devices.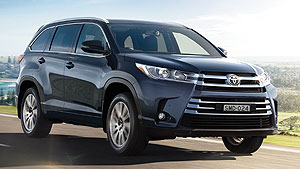 Kluger's 3.5 Litre Dual VVT-i engine has plenty of power – at 6200 rpm, it pumps out 201kW and generates 337Nm of torque at 4700 rpm.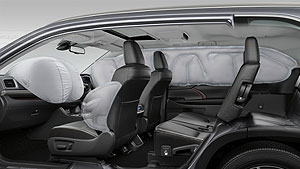 With Toyota Kluger you and your family are in safe hands. Kluger boasts 7 airbags consisting of front airbags, driver's knee airbags, side airbags and side curtain airbags.
*The standard Toyota Warranty Advantage period for new vehicles is 5 years with unlimited kilometres and, if the vehicle is properly maintained, up to 7 years Engine and Driveline and up to 10 years Hybrid Battery with unlimited kilometres. Refer to warranty conditions. This warranty does not limit and may not necessarily exceed your rights under the Australian Consumer Law. View Terms & Conditions.
[T1] Price is model specific at participating dealers only. Maximum payable for standard scheduled servicing (normal operating conditions) for a nominated number of months/kilometres (whichever occurs first) up to a nominated maximum number of services. Excludes Government & Rental vehicles. Contact your Toyota Dealer or go to toyota.com.au/advantage for other exclusions, eligibility and full details.
[T7] Terms and condition, fees and charges apply. Toyota Access Guaranteed Future Value products are available to approved customers of Toyota Finance a division of Toyota Finance Australia Limited ABN 48 002 435 181, AFSL and Australian Credit Licence 392536.
[T9] Terms and conditions apply. Before making a decision about this product, please read the current Product Disclosure Statement (PDS) available from participating Toyota Dealers, via our website toyotainsurance.com.au or by calling 137 200. Toyota Insurance is issued by Toyota Finance Australia Limited ABN 48 002 435 181, AFSL and Australian Credit Licence 392536. The insurer is Aioi Nissay Dowa Insurance Company Australia Pty Ltd ABN 11 132 524 282 AFSL Number 443540. Our insurance policies do not change or take away your rights under the Australian Consumer Law. Your right to claim under our policies for the benefits covered are in addition to other rights and remedies you have under the law in relation to your vehicle. However, you can choose to make a claim under any of our policies even if you have rights under the law.